[Sticky]

Wests Tigers Signings Discussion
good backline 
maybe gildart at centre
maybe Hastings plays 13 and they stick with Brooks and Douhie 
With Nanai , cotric and potentially Hodgson , maybe Thompson , that's a huge off-season . 
who did we really lose ? 
but we gained an absolute bucketload. 
A good way to gauge improvement is if starters last year are playing reserve grade this year . 
 
Ive got it basically as Luciano …………… Mbye …………… Chee Kam ….. and not much else . Not one of those players based on last year would have started. 
@tiger5150 thanks mate. 
Ive also read on another forum that he has got homesick and gone home so who knows what is going on with Dudley?
THis would be a game changer.....
Sport Confidential: Wests Tigers ramp up bid to snare Api Koroisau​
Panthers hooker Api Koroisau is edging closer to deciding his NRL future after a rival club ramped up its bid to lure the Origin representative away from the premiers.
Michael Carayannis, Brent Read and Jamie Pandaram
11 min read
December 2, 2021 - 7:45PM
News Corp Australia Sports Newsroom
Api Koroisau is close to making a call on his future after Wests Tigers formally entered the race for his services by tabling a three-year deal for the NSW representative.
It is understood Koroisau could be only days away from deciding where he will play in 2023. The Tigers have made their intentions clear, having shifted their focus from Canberra veteran Josh Hodgson after they were unable to strike a deal with the Raiders over the Englishman.
The Dolphins are also keeping a close watch on Koroisau but are weighing up whether to make him a long-term offer as they gauge other potential options.
Among them is Harry Grant, the Storm and Queensland rake who is not off-contract until the end of 2023 after Melbourne took up an option in their favour.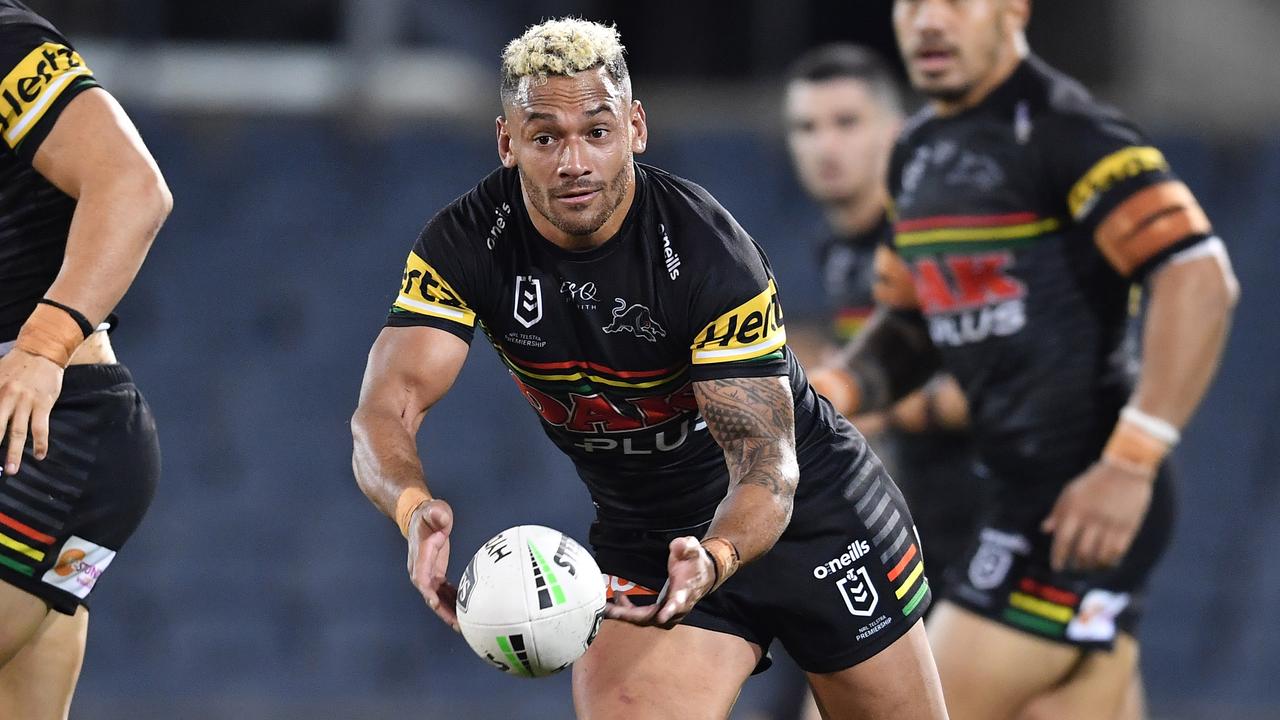 Api Koroisau is close to making a call on his future. Picture: Robb Cox/NRL Photos
Waiting for Grant would mean the Dolphins signing a stopgap for one year. It would be worth it if the Dolphins and their brain's trust of Wayne Bennett and Peter O'Sullivan can find a way to convince Grant to return to Queensland.
The Tigers and Raiders are also racing to sign Bulldogs outside back Nick Cotric. Canberra remain the front-runners for Cotric, who would return to the club after a one-year absence.
Koroisau has become the most prized hooker on the open market following Reed Mahoney's decision to join Canterbury and Brandon Smith's agreement with the Sydney Roosters.
The Panthers are struggling with their salary cap and the Tigers, having initially talked to Canberra about securing an early release for Hodgson, are believed to have improved their deal for Koroisau to include an extra year this week.
They should know soon enough whether it is enough to secure the classy No.9, a move that could likely mean their incumbent rake Jacob Liddle is on the lookout for a new club.
Wow! I thought the word was that the api talk was all from his manager to increase panthers offer?
But if we are serious it's very interesting. He can obviously play and would give us a lot more in attack. I don't know what he's like as a senior leader - which is what we need and why I like Hodgson. The blues camp stuff didn't impress me. But would 100% make us a better team.
Also shows they don't see Liddle as the future.  3 years will mean Simpkin will be more than ready and possibly overtake api within that time - given api will be 32 by end of contract.
@tiger5150 TYGA on the other forum saying Api 100% done deal.
@avocadoontoast he's won 2 grandfinals and played under made before.
We need some seniority in the spine.
He's played with a younger team at the panthers.
Could be great. 
Fingers crossed doesn't turn into a BJ Leilua or Tamou signing 
Forgotten man saying cotric is very close and so is thompson...... take it for what its worth add that to api and we are rolling
@frullens he'd be a great signing. One of the best 9's in the game. Exciting stuff.
@avocadoontoast agree he'd be great. 
Really keen for madge to have a 1st grade quality team this year to work with. Nervous about what happens if we have the same team and get a similar result.
2019 - he took them to %points of making the 8
2020 - push them harder to do better - made them accountable. We got eggshells. 
2021 - lost the eggshells- but had a very very young team with no senior leadership.
2022 - if we have a team full.of proper 1st graders. We hopefully can push deep into the season - and give our young talent so conifence, to commit to WT
@frullens he'd be a great signing. One of the best 9's in the game. Exciting stuff.
But is he getting Vaxxed?
Api is key, first Hodgo now Api I think the club does not see Liddle as the starting 9