Naden signs from Bulldogs​ till 2023
Topic starter
17/05/2022 5:10 pm
Naden signs from Bulldogs​
AuthorWests Tigers
Wests Tigers are delighted to welcome Brent Naden to club after he was today released from his contract by Canterbury.
The 26 year old will play with the Wests Tigers this season and in 2023.
Coach Michael Maguire says Naden is a welcome addition to the club, "Brent is a quality player and will be a welcome addition to the group of players we already have at the club."
It's exciting for Brent and for our playing group."
CEO Justin Pascoe also welcomes Naden to the club, "It's great to have Brent on board. I would like to welcome him to the club and I'm sure he'll bring some added experience to our backline."
Brent has been included in the squad to play Canterbury on Friday night at Leichhardt Oval.
What was everyone's thoughts on Naden last night? In the context of him only doing a couple of training sessions I thought he was pretty solid. He's a big body and pacey so he'll be dangerous if we use him properly.
Topic starter
21/05/2022 11:30 am
Impressed with his TRY saver on Dufty.. Dufty had a start as well.. Naden showed some toe..
Naden's TRY Assist for Maumalo was silky in the conditions..
Big athletic body in the centres we haven't had for a while...BJ was just fat..
Dogs fans can suck an egg.. defensively he was very solid.. took some dirty carries as well..
Solid debut for Wests Tigers
In the circumstances I think he was solid. Good tip on for Kens try. good try saver. Looks big and fast. Would like less sideways running but that will come
I though he was pretty damn good for his first run out. Try saver showed a lot of speed, something we desperately need. Try assist was pretty good as well. Don't think he made a mistake in defence, I'll have to watch the replay to check. 
First impressions are I think he's a keeper. 
According to Buzz
SPOTTED
A flare-up between Bulldogs fullback Matt Dufty and his former teammate Brent Naden at full-time at Leichhardt. It wasn't picked up on TV because Fox Sports crossed straight to CommBank Stadium for the Sea Eagles v Eels.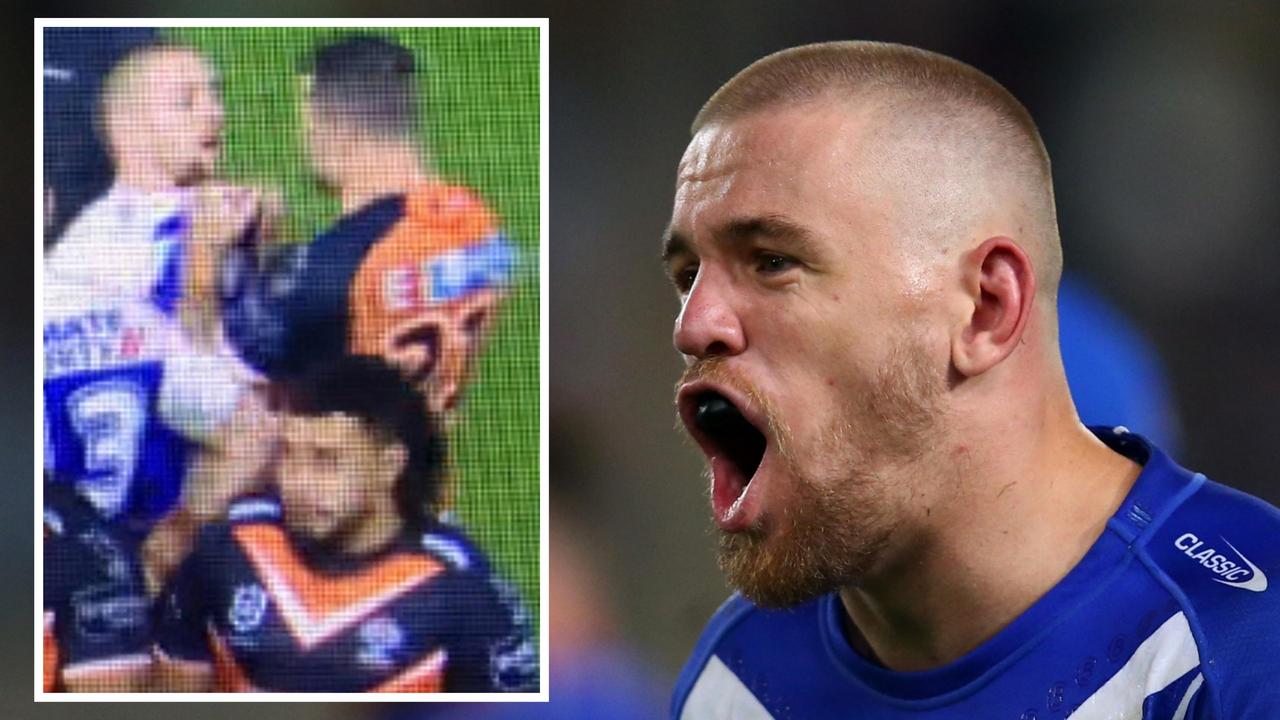 Brent Naden and Matt Dufty clash. Picture: Fox League
Good work Buzz you fool. How about trying to analyse the game you goose!
Topic starter
22/05/2022 5:41 pm
Dogs fans hate Dufty more than Naden.. probably cheering him on..
Really excellent pickup by the club 
Really excellent pickup by the club 
I agree, he's got one centre spot for 2023 👍
Listen live to Wests Tigers Radio. weststigersradio.com.au
He has shown he has speed and can make a break ...but if you want to keep him we need to find some more big bodies in the back 5 ...that was bleedingly apparent last night ....we had 2 sets of 6 we didn't make 25 metres ..one from memory was 17 metres 
yup i thought he was one of our best if not our best last night..once the jet is back there is all of a sudden competition for centre